L'origine de l'application
SoWell est né d'une histoire très personnelle puisque la mère de Donaldo DE SOUSA, associé fondateur de SoWell, était gardienne d'immeuble. Elle était confrontée à la lourdeur administrative pour signaler et suivre un incident technique sur ses résidences. Elle était aussi frustrée de ne pas pouvoir donner une réponse immédiate aux locataires. Fin 2017, SoWell lance la première application mobile dédiée aux gardiens d'immeuble !
logements sociaux
couverts
gardiens d'immeuble utilisateurs de la solution
locataires ont un gardien équipé de SoWell
signalements sont effectués chaque mois
visites de sécurité sont réalisées chaque année par les gardiens
Une équipe complémentaire, hyper-active et passionnée, disponible pour vous apporter des solutions qui simplifient votre quotidien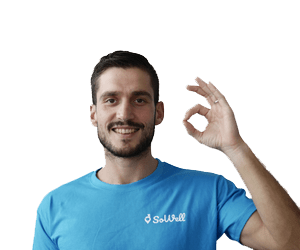 Romain Berezay
Cofondateur et
Directeur Commercial
Donaldo De Sousa
Cofondateur et
Directeur Technique
Thomas Martin
Responsable
Relation-clients
Les articles et reportages au coeur de SoWell
Test the application for free
A demonstration of the application or a free full-scale test?